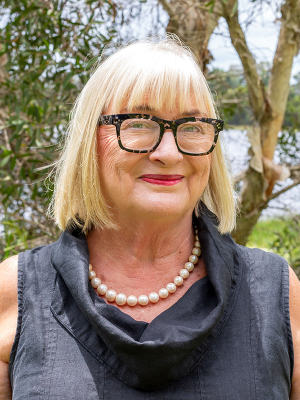 Robyn Kildey & Kimberlea Thwaites
Principal
Robyn Kildey
"When Experience Counts"
Thank-you for taking the time to view my profile, if I can help you with any of your real estate needs please don't hesitate to get in contact.
With over 40 years of sales experience, the last 20 years have been spent in Real Estate. Four of those years, Robyn worked in very busy Inner West Sydney where she won the Award for the 'Most successful Agent' in the First National Group.
After moving to the Noosa Hinterland 16 years ago, Robyn alongside her two business partners started their own business on the principle of raising the ethical standards within the Real Estate Industry. 15 years later and Robyn is the sole owner and Principal, and due to maintaining the high standards, and an intense focus on client service, Countryside Realty Noosa is more successful than ever. They pride themselves on the business they conduct and their reputation speaks for them.
Robyn leads the team by example and having spent many years in the industry, matching buyers to properties is a skill that comes naturally to her. Drawing on an extensive sales background she is able to coach and advise the team throughout their success. It is to Robyn's complete enjoyment to watch the Countryside Realty team, work hard to achieve superb results for buyers and sellers alike.
Specialties:
Hand-picking, coaching and leading a successful and cohesive team
Extensive Sales Background
Innate ability to match buyers to properties
Extensive knowledge of the Noosa hinterland
Awards:
Finalist in the 2018 REIQ Awards for Excellence Small Residential Agency of the Year category
5 Questions for Robyn Kildey:
When you aren't at Countryside?
I'll most likely be traveling the world, this year I'm visiting Papua New Guinea, India and planning a trip to Africa.
Your Motto to live by?
Live every day as if it's your last
Your Best Recipe?
My sons love my Paella
Your Happy Place?
The Beach
Who Do You Admire the Most?
Co-Co Chanel
Kimberlea Thwaites
Award winning agent Kimberlea Thwaites has firmly established herself as one of the leading agents in the Noosa Hinterland with a personal record of 40 Sales in one year, and state wide recognition with being named as one of the REIQ's top 10 young professionals in 2018.
Kim's specialty really lies in securing long term relationships with her clients often keeping in contact with them for years before and after a business transaction occurs. Her negotiation, business management and interpersonal skills are appreciated widely by all of her clients, something that is made apparent from all of her testimonials.
Read Kimberlea's full profile – here