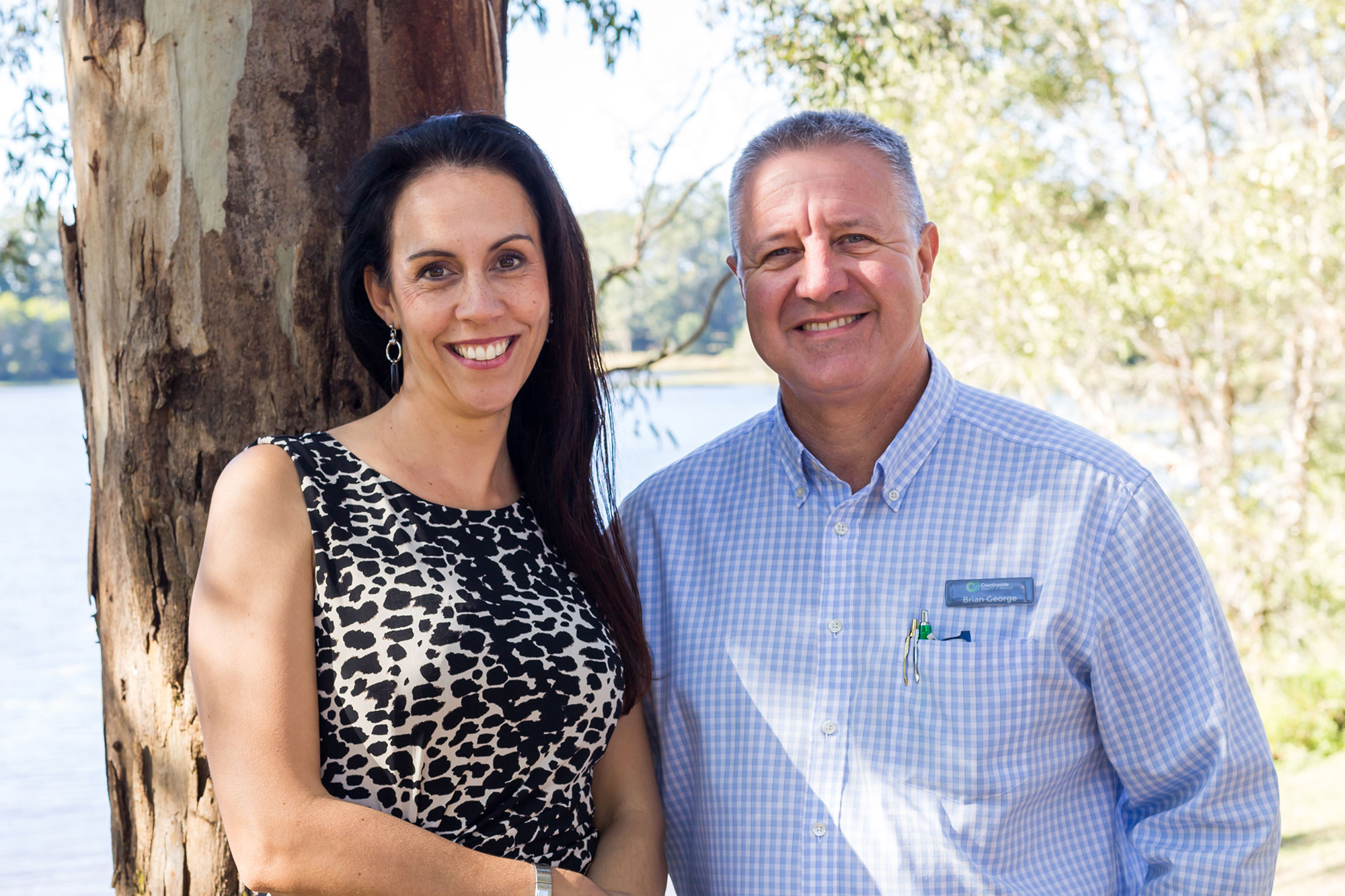 Brian George & Carlene George
Sales Associate & Property Stylist
M.0402733906
M.0423475914
Brian George
Values:
Truth
Transparency
Service
Compassion
Mission:
To achieve the highest price possible in the Market for his Vendors by incorporating industry best leading marketing strategies whilst treating all individuals with Respect.
There is a reason why the most common occurring words in Brian's Testimonials are:
"Honest, Professional, Knowledgeable, Hardworking, Good Negotiator, Passionate. Recommend, Best Agent"
Personal Background:
Having bought and settled in Pomona with his family, Brian cannot envisage ever moving to another place to call Home!
As a passionate, contributing member of his local community he is constantly astounded by the caliber of the Community and what a wonderful kaleidoscope of character and aptitude is apparent in the people he gets to mingle with every day helping Buyers and Sellers in the Noosa Hinterland.
A keen self-renovator, after finishing a unit on the Noosa River, he helped his mother make the big move from Brisbane to Cooran by modernising her new home, and has just completed a remodel of his classic 1910 Queenslander in Pomona.
Professional Background:
Brian's whole career has spanned every aspect of the Sales, Marketing, and Service industries, after joining Countryside in July 2016 he slotted in perfectly bringing a different dynamic to the already renowned cohesive team, his warm and caring nature prepared him wonderfully for a business built solely on reputation and service.
Brian's interpersonal skills, integrity and enthusiasm ensure his commitment to building relationships and achieving the best possible results for all his clients, Sellers and Buyers alike. He deeply understands his client's essentials when buying and selling real estate, and his reputable character can clearly be seen through his impeccable testimonials from clients
Specialties:
Social Media Marketing
Property Presentation
Property Online Promotion
Humour – Follow my Facebook Page for more!
Awards:
Finalist in the 2018 REIQ Awards for Excellence Small Residential Agency of the Year category
Rate my Agents Agency of the Year for Lake Macdonald 2018/2019
Countryside Realty Noosa's – Most Recommended Agent 2018
Best Daddy of the Year 2019 – Amelie George
Community:
My belief is that if you are not prepared to participate in the Community how can't you call yourself part of it!
Proud Supporter of Pomona State Schools Grade 6 Awards.
Proud Supporter of Cooran State School P&C
Proud Supporter of Pomona State School P&C
Proud Supporter of Cooroora Woodworkers
Proud Supporter of Cooroy & Pomona Lions Club
Carlene George
Carlene George lives in Pomona with husband Brian and daughter Amelie along with three rescued cats and dog. Carlene fell in love with this area 5 years ago as it has the similarities of Martinborough, the small country town she grew up in, in New Zealand.  Pomona has such a beautiful safe community feel where you can walk down the street and see a familiar friendly face wherever you go. With the location being where it is of such close proximity to Noosa and set in the gorgeous forest hinterland, this is a true paradise and she believes it is the ideal place to raise her daughter.
Carlene gained a BA degree in fashion design and technology, has had many years of experience in the industry working with top fashion houses in New Zealand, London, and Australia. Through the years of owning real estate and designing and project managing renovations, Carlene's career has transpired from clothing to property and interior design.
Carlene has been buying and selling her own real estate properties since the age of 20 and now has a property portfolio that she property manages including long term and short term rentals.  She has also managed renovation projects which have had an immense improvement to the living standards and value of the properties.
Having a passion for real estate eye for detail and design, and being a people person Carlene is looking forward to combining all of these attributes and taking on the role of Countryside Noosa realty's new Exclusive In-house Stylist and Sales Associate